It's almost that star-spangled holiday time…looking for the best events happening on 4th of July in Hampton Roads this year? We've got a slew of local goings-on for you to choose from, mostly free and fun for the entire family (list courtesy of MyActiveChild.com).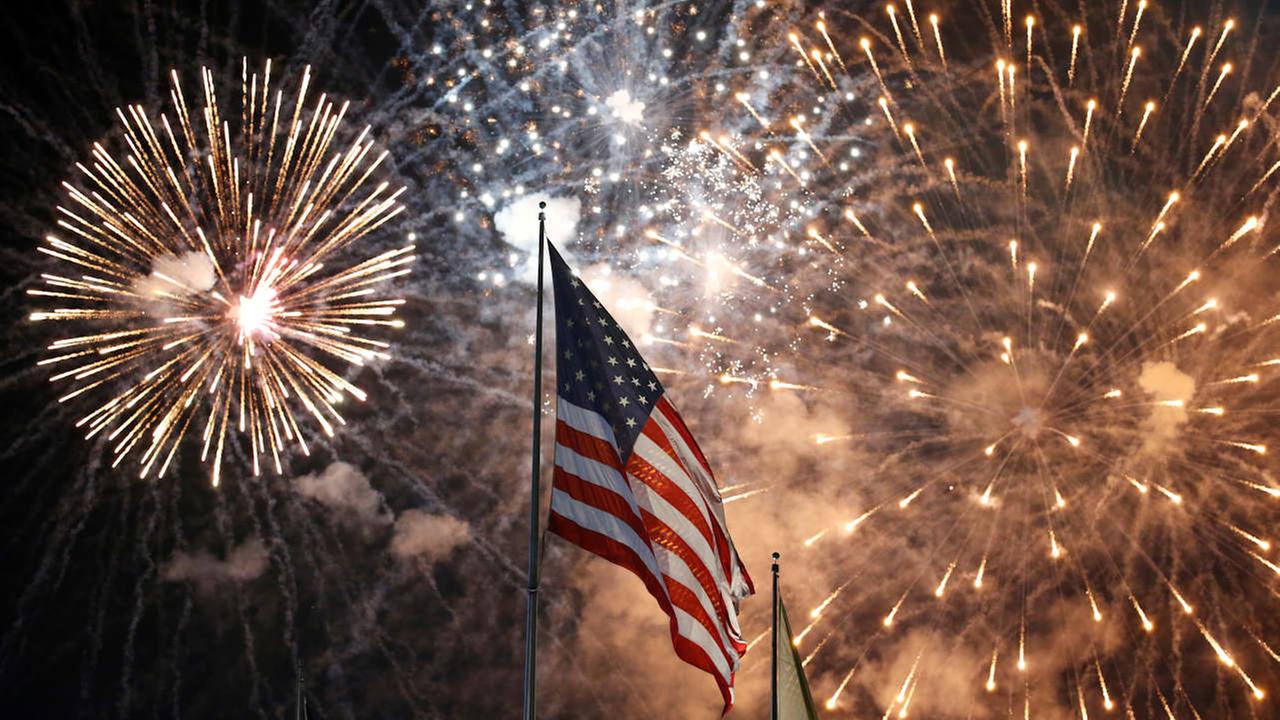 CHESAPEAKE
Date: Tuesday, July 3, 2018 from 5-9:15pm
Location: Chesapeake City Park, 900 Greenbrier Parkway, Chesapeake, VA 23320
Description: Celebrate America's Birthday with the U.S. Fleet Forces Band, known as the "Finest in the Fleet", the band is the musical representative for Commander, U.S. Fleet Forces Command in Norfolk, Virginia. Under the direction of Lt. Robert J. Coats, the band is staffed by some of the U.S. Navy's finest and most talented musicians, providing stirring patriotic sounds. Following the concert, fireworks by Pyrotechnico will illuminate the dark sky after sunset. Parks, Recreation and Tourism also will present the best in children's activities and family entertainment: face painting, 3 years and under play area, giant lawn games, inflatables and much more. The Chesapeake Public Art Committee will be on hand spreading awareness and taking donations for the Chesapeake 9/11 Memorial. Chesapeake ArtsAlive will offer a silent auction of fun, summer gift baskets to support Chesapeake students in the arts. A variety of "food vendor" concessions will also be available for an evening picnic. Bring your own chairs or blanket. (Pop-up Tents not permitted)
Cost: Free, there is a $5 parking fee
Freedom Fest at Community Church

Date: Wednesday, July 4, 2018. Fun run at 8am. Fun Zone open from 9am-12pm.
Location: Community Church – Western Branch Campus 1935 Jolliff Rd Chesapeake, VA 23321
Description: An FREE*, one-stop experience for July 4th food and fun.
1-mile fun run for ages 5+, only $30. Includes race medal, shirt, swag bag & more. Multiple obstacles and loads of fun! Benefitting Roc Solid Foundation.
Chick-Fil-A® breakfast for sale
Free for all – Fun Zone! Huge spread of bounce houses, massive rock climbing wall! Superheroes, Chick-Fil-A® cow, Suffolk Fire and Safety Unit, Chesapeake K-9 Unit provide an exciting experience for kids & families
Cost: Free!
38th Annual South Norfolk Parade and Picnic in the Park


Date: Wednesday, July 4, 2018, from 10am-3pm
Location: Lakeside Park, 1441 Bainbridge Blvd, Chesapeake, VA
Description: Enjoy a 4th of July tradition in Chesapeake! Parade, entertainment, food, games and paddleboat rides! The parade steps off at 10 a.m. and the picnic is at 11 am – 3 pm. Event is FREE to the public!
Cost: Free and open to the public


NORFOLK

Shore Thing Independence Day Concert, Celebration & Fireworks
Date: Friday, June 29, 2018 from 6-9:30pm
Location: Ocean View Beach Park Norfolk, Virginia 23503
Description: Shore Thing Concert and Independence Day Celebration is a great way to start the weekend with Live Music, children's activities, food, beverages and more! Fireworks at 9:30pm.
Cost: Free and open to the public


Date: Sunday, July 1, 2018 from 2-4pm
Location: Graydon Pl, Norfolk, VA
Description: Join the West Ghent Civic League for our Annual 4th of July Bike Parade. Encourage your children decorate their bikes in their best patriotic gear~
Cost: Free!
Date: Tuesday, July 3, 2018. Game starts at 7:05pm
Location: Harbor Park Stadium, Park Avenue, Norfolk, VA
Description: Don't miss the fireworks after the game!
Cost: Included with game admission
The 36th Annual Fourth of July Great American Picnic & Fireworks
Date: Wednesday, July 4, 2018 from 5-10pm
Location: TowneBank Fountain Park within Town Point Park, Waterside Drive, Norfolk, VA 23510
Description: Guests can buy traditional all American fare, including hot dogs, hamburgers, barbecue, seafood, buttered corn on the cob, juicy watermelon, lemonade… with all the fixin's and much more available for purchase! Relax on the lawn and enjoy the live entertainment, then watch as the sky lights up with the fireworks display at 9:30pm.
Cost: Free admission. Food available for purchase.
PORTSMOUTH
Historic Cradock's 100th Patriotic Salute
Date: Wednesday, July 4, 2018 from 8:30am-12pm
Location: Afton Parkway & George Washington Highway Entrance, Portsmouth VA
Description: Join the historic Cradock community for a 4th of July salute. To participate in the Children's Bike Parade, register between 8:30 and 9:15 a.m. at George Washington Highway and Afton Parkway green space (all ages and non-motorized vehicles welcome). Parade participants will receive a July 4th favor. Following the flag raising, prizes will be presented to the best patriotically decorated bike, carriage, wagon, etc. The Parade will leave at 9:30 a.m. lead by Portsmouth's own Fire Engine 11 down Afton Parkway to the Gazebo in Afton Square. At 10:00 a.m. a flag raising ceremony will commence including patriotic addresses, music by a military band; refreshments by the Veterans of Foreign Wars Post 993 and Disabled American Veterans Post 41.
Cost: Free
July 4th Stars & Stripes Concert & Fireworks

Date: Wednesday, July 4, 2018. Concerts at 5:30pm and 7:30pm, Fireworks at 9:30pm.
Location: High Street Landing, Portsmouth, VA
Description: Celebrate the country's birthday with us during our annual 4th of July Stars & Stripes Concert. Featuring country singing sensation Celeste Kellogg taking the stage at 5:30 p.m. and the Tidewater Concert Orchestra performs at 7:30 p.m. Bring the whole family for this annual 4th of July music tribute to our country. Fireworks at 9:30 p.m.
Cost: Free
SUFFOLK
Date: Wednesday, July 4, 2018 from 5:30-9:30pm
Location: Constant's Wharf Park and Marina, 110 E. Constance Road, Suffolk, VA 23434
Description: Enjoy the Stars and Stripes Spectacular, as the skies of Suffolk light up with the firework show over the Nansemond River at Constant's Wharf Park & Marina. The park will open at 5:30pm with entertainment, children's activities, local merchandise vendors and food choices available. The firework show will begin at 9 p.m., for the whole family to enjoy! Music will be provided by The Hotcakes.
Cost: Free admission, $5 for kids area activities (ages 12 and under). There will be free shuttles from the First Baptist Church, Godwin Courts, and City Hall parking lots beginning at 5:15
VIRGINIA BEACH
Stars & Stripes Explosion & Fireworks at the Oceanfront


Date: Wednesday, July 4, 2018 from 7 – 10pm. Fireworks at 9:30pm
Location: Virginia Beach Oceanfront / Boardwalk, Virginia Beach, VA
Description: Multiple live performances on oceanfront stages will attract thousands of visitors and residents of Virginia Beach to a "star-spangled" salute to this great country of ours at Stars & Stripes Explosion on July 4! Scheduled live entertainment offers something for everyone: patriotic and classical to tribute bands, and naturally, fireworks!
Cost: Free


July 4th Celebration at Mt Trashmore

Date: Wednesday, July 4, 2018 from 4-10pm. Fireworks will be at 9:30pm.
Location: Mount Trashmore Park, 310 Edwin Drive Virginia Beach, VA
Description: Celebrate with your friends and family at our annual July 4th Celebration at Mount Trashmore Park! Live music. Children's activities from 4-8pm: Inflatables, face painting and yard games. Food Vendors will be: Cubania, Dino Ice, Funnel Cake Factory, Grace and Sarah, Keep It Poppin', MacBrand Foods, Make Me A Plate, Mediterranean Roots, Nadar's Food, Papa John's, Rita's Italian Ice, Skippy's Snoballs.
Cost: Free admission, limited parking for $10
Do you have a specific community or real estate question for our team? Email us at tghomes757@gmail.com.
If you are looking to buy or sell your home, or are interesting in relocating to our area, get in touch with us directly and we would be delighted to assist!